QUITO, Ecuador (CNN) -- President Rafael Correa of Ecuador claimed re-election victory Sunday minutes after the polls closed, calling his apparent win "a day of joy" in which "we have made history."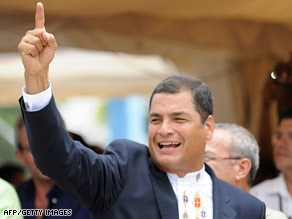 President Rafael Correa of Ecuador celebrates in Guayaquil on Sunday.
Officials results were not expected until later Sunday night.
"We are here for the poor," Correa said in concluding a news conference. "We will never fail you. We will never fail you."
Exit polls broadcast by CNN affiliate Ecuavisa TV showed Correa with more than 50 percent of the vote, leading former President Lucio Gutierrez by nearly 30 percentage points and banana magnate Alvaro Noboa by more than 40 percentage points.
In order to avoid a runoff, a presidential candidate must win more than 50 percent of the vote, or take more than 40 percent of the ballots while beating the second-place finisher by 10 points.
Early results were not available in elections for the 124-seat National Congress, where Correa's Alianza Pais party was expected to do well and could win enough votes to control the legislative assembly.
Gutierrez, who served as president from January 2003 until fleeing the country amid a scandal in April 2005, declined to concede defeat and accused Correa of fraud.
"The whole country said, 'With Lucio we were better and with Correa we are worse,' " Gutierrez said.
He also indicated during a boisterous news conference he may run for president again in four years.
"We must keep fighting for Ecuadorians who want liberty," Gutierrez said. "I am going to continue fighting because we can't let our guard down."